Sabtu, 16 Oktober 2020, "International Conference on Science Education and Technology (ICOSETH)  2021 sukses digelar oleh Program S3 Pendidikan IPA, Fakultas Keguruan dan Ilmu Pendidikan, Universitas Sebelas Maret, Surakarta. Konferensi ini merupakan konferensi ketiga yang dilaksanakan oleh Program S3 Pendidikan IPA dengan mengambil tema Science Literation, Learning, and Innovation of Science Education and Technology in The Digital Era. Kegiatan ICOSETH 2021, Dibuka oleh Wakil Rektor bidang Akademik dan Kemahasiswaan UNS, Prof. Dr. Ir. Ahmad Yunus, M.S., konferensi tersebut menghadirkan empat orang pakar dan profesor bidang pendidikan dan pendidikan sains sebagai pembicara utama.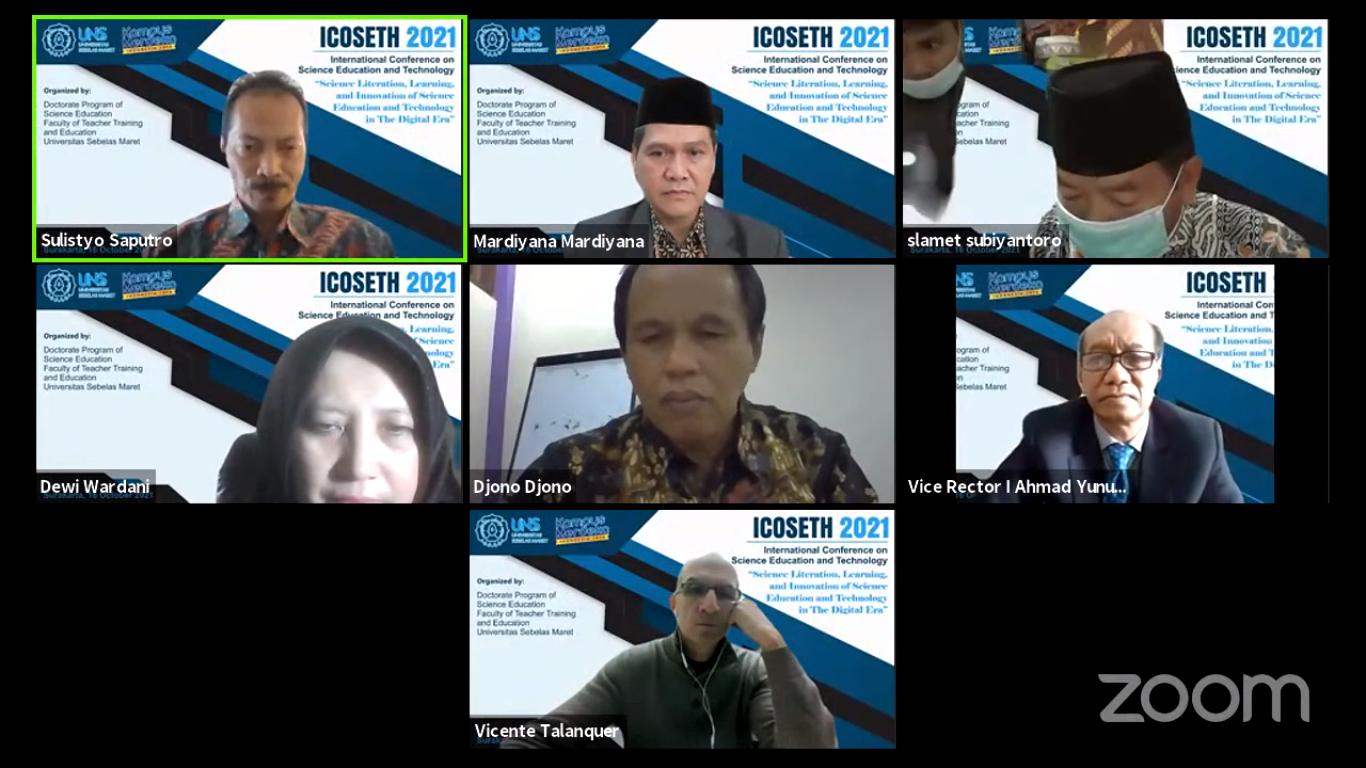 Kegiatan ICOSETH 2021, sesi pertama merupakan seminar dan diskusi dengan empat pembicara utama, yaitu Prof Vicente A. Talanquer dari Department of Chemistry and Biochemistry, University of Arizona, Dr. Ross D. Arnold dari Chief Scientist, U.S. Army DEVCOM-AC, Assistant Professor Xiaoming Zhai dari Department of Mathematics and Science Education Mary Frances Early College of Education University of Georgia, dan Prof. Dr. Ir. Ahmad Yunus, M.S., yang juga sebagai Wakil Rektor bidang Akademik dan Kemahasiswaan Universitas Sebelas Maret. Keempat pembicara sesi pertama memberikan materi tentang literasi sains, pemelajaran, dan inovasi dalam pendidika sains dalam menghadapi era digital.
"Kegiatan ICOSETH 2021 dihadiri secara virtual oleh lebih dari 350 peserta baik sebagai author maupun non-author dengan total 150 artikel yang lolos proses review awal dan layak untuk dipresentasikan. Artikel yang terpilih nanti akan diterbitkan pada beberapa jurnal publikasi," jelas Prof. Sulistyo selaku Ketua Panitia ICOSTEH 2021. Beberapa jurnal tersebut, imbuh Prof. Sulistyo, adalah International Journal (Scopus), National Journal (Sinta), dan International Proceeding (Scopus/WoS).
URL YouTube: https://www.youtube.com/watch?v=P9xbprh8WAM
Website: https://icoseth.uns.ac.id
More Posts You May Find Interesting