Sabtu, 24 Oktober 2020, "International Conference on Science Education and Technology (ICOSETH)  2020 sukses digelar oleh Program S3 Pendidikan IPA, Fakultas Keguruan dan Ilmu Pendidikan, Universitas Sebelas Maret, Surakarta. Konferensi ini merupakan yang dilaksanakan oleh Program S3 Pendidikan IPA dengan mengambil tema Enhancing Research and Collaboration in Science Education and Technology in The Digital Era. Kegiatan ICOSETH 2020, Dibuka oleh Wakil Rektor bidang Akademik dan Kemahasiswaan UNS, Prof. Dr. Ir. Ahmad Yunus, M.S., konferensi tersebut menghadirkan empat orang pakar dan profesor bidang pendidikan dan pendidikan sains sebagai pembicara utama.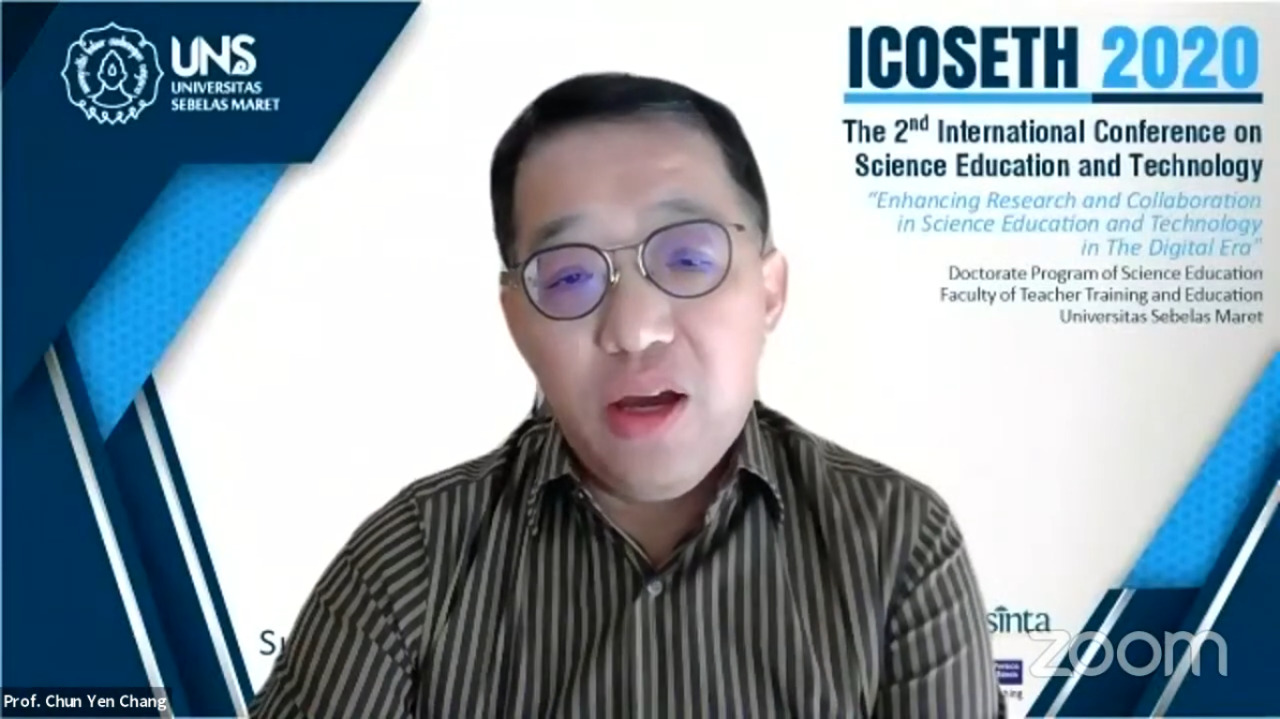 Kegiatan ICOSETH 2020, sesi pertama merupakan seminar dan diskusi dengan empat pembicara utama, yaitu Prof. Chun Yen Chang dari National Taiwan Normal University, Taiwan, Prof. Dr. rer. nat. Sajidan, M.Si., yang juga menjabat sebagai Wakil Rektor Bidang Perencanaan, Kerjasama, Bisnis dan Informasi, Associate Professor Mihye Won dari Curtin University, Perth Western Australia, dan Prof. Stéphane Grumbach dari Senior Scientist at Inria, France. Keempat pembicara sesi pertama memberikan materi tentang pentingnya melakukan penelitian dan berkolaborasi dengan para ahli dalam bidang pendidikan sains sebagai upaya dalam menghadapi era digital.
"Kegiatan ini sebagian didanai oleh dana WCU UNS. Dihadiri oleh lebih dari 300 peserta dengan total 150 artikel yang lolos proses review awal dan layak untuk dipresentasikan. Artikel yang terpilih nanti akan diterbitkan pada beberapa jurnal publikasi," jelas Prof. Sulistyo selaku Ketua Panitia ICOSTEH 2020. Beberapa jurnal tersebut, imbuh Prof. Sulistyo, adalah Pertanika Journal of Social Sciences & Humanities (JSSH) (Scopus Q3), International Journal of Advanced Trends in Computer Science and Engineering (IJATCSE) (Scopus), dan Journal of Physics: Conference Series – IOPscience (Scopus).
URL YouTube: https://www.youtube.com/watch?v=FU0DUVdcIlM
Website: https://icoseth.uns.ac.id 
More Posts You May Find Interesting